Artist Tom O'Hearn says he's likely to make more money heading out into the wilds of Tasmania with some oils than his art path is.
Instead of mastering landscapes, he said he became poorly good at drawing.
"I love being out in the wild somewhere with a huge canvas smudged with oil paints," O'Hearn said. ABC Radio Hobart.
"But I keep trying and it doesn't really work."
The Hobart artist is an illustrator, drawer, mural artist, and even an animator – think Mambo meets where wild things are combined with some good old doodles.
Over the past 15 years, the 37-year-old's work has become prolific around Hobart, with his quirky murals appearing in schools, cafes, boats, inside nightclubs, alleys and of course – toilets.
"I think I painted 30 toilets around Hobart, maybe more. Lots of toilets," he said.
"I'd like to paint museums but I'll take what I can get."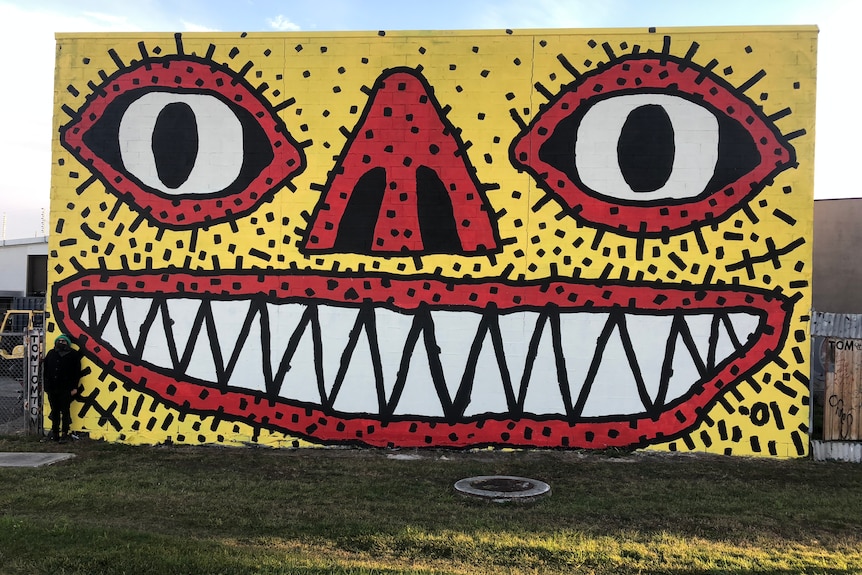 Celebrating imperfections
O'Hern believes the world is too busy for everything to be perfect.
"Everyone looks for the perfect stuff all the time," he said.
"Everything is printed by computers, everything is on a screen and flat."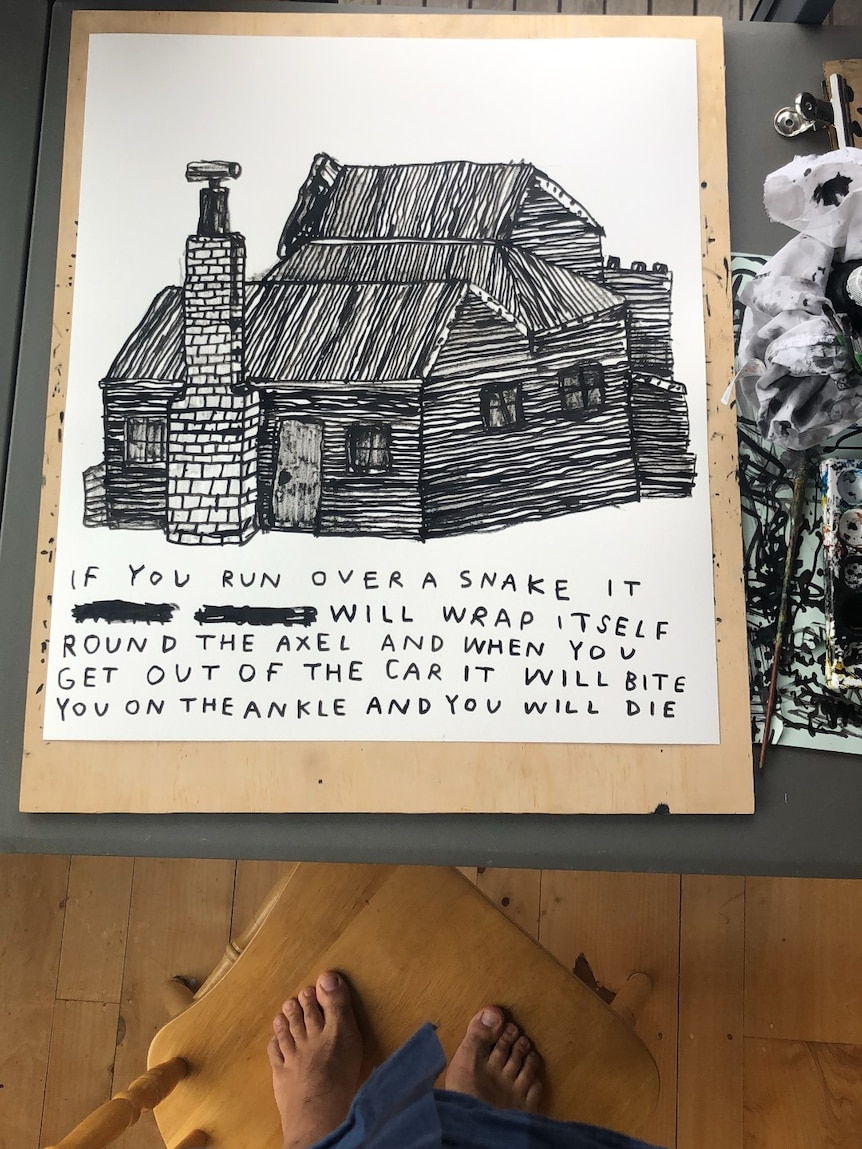 He says it's mistakes and flaws that make life interesting.
"Everyone has forgotten that drawing exists forever and everyone should be able to do it.
"But at some point we became self-conscious about it. We get upset if something doesn't look like a picture.
Ohearn's drawing often looks like he's writing.
"Like when I draw a bird or something it doesn't look like I'm trying to draw a realistic bird and get every feather just right, it feels like a short hand," he said.
"It feels like the beginnings of new hieroglyphs and I'm discovering a type of written language that doesn't yet exist."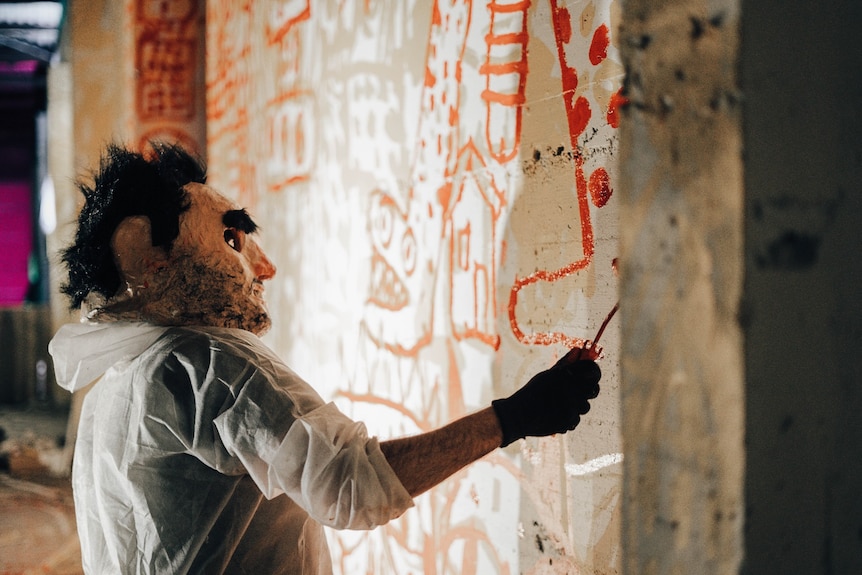 Learn to draw badly
Last weekend, O'Hearn ran a workshop called How to Draw Really Bad.
loading
But all participants were good drawers.
"For those who are starting out," he said, "I said to stop being so precious about it."
"For more experienced people, it's all about the irony of becoming an expert and having all that experience and knowledge and that creativity can get in the way because you're coming from it from actually knowing the answer.
"But it's better to be open and not know what the answer is."
Much of his work is generic murals, and he treats each one differently.
"I seem to attack them in completely different ways and I'm sure it scares the customers," he said.
Everyone is born an artist
O'Hearn went to school at Gilston Bay High School on the east shore of Hobart and then Rosney College before art school.
He's been making art ever since.
"Everyone really starts out with art, it's just that most people stop getting involved with art at some point," he said.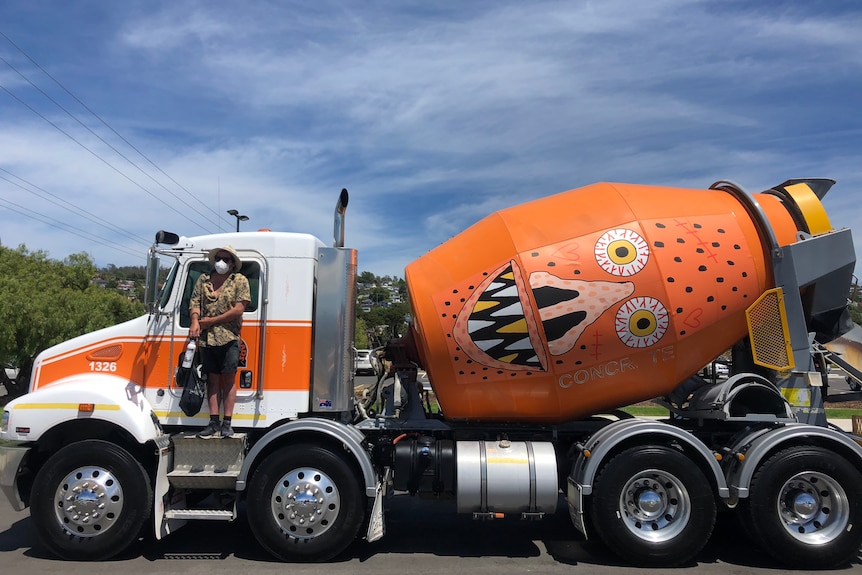 He said that "compulsion and an addiction to unhealthy drawing" kept him going.
Early in his career he moved to Melbourne, learned to live very cheaply and worked in cold, leaky warehouses.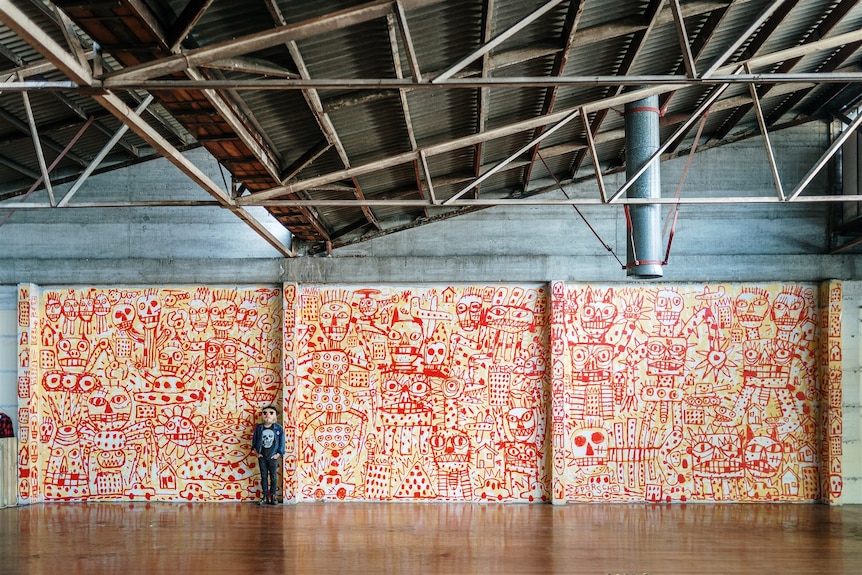 His first exhibition was in 2005 in Hobart with some other artists and was based on graffiti and street art using stencils and spray paint.
"It was a completely different thing I was trying to do at the time," he said.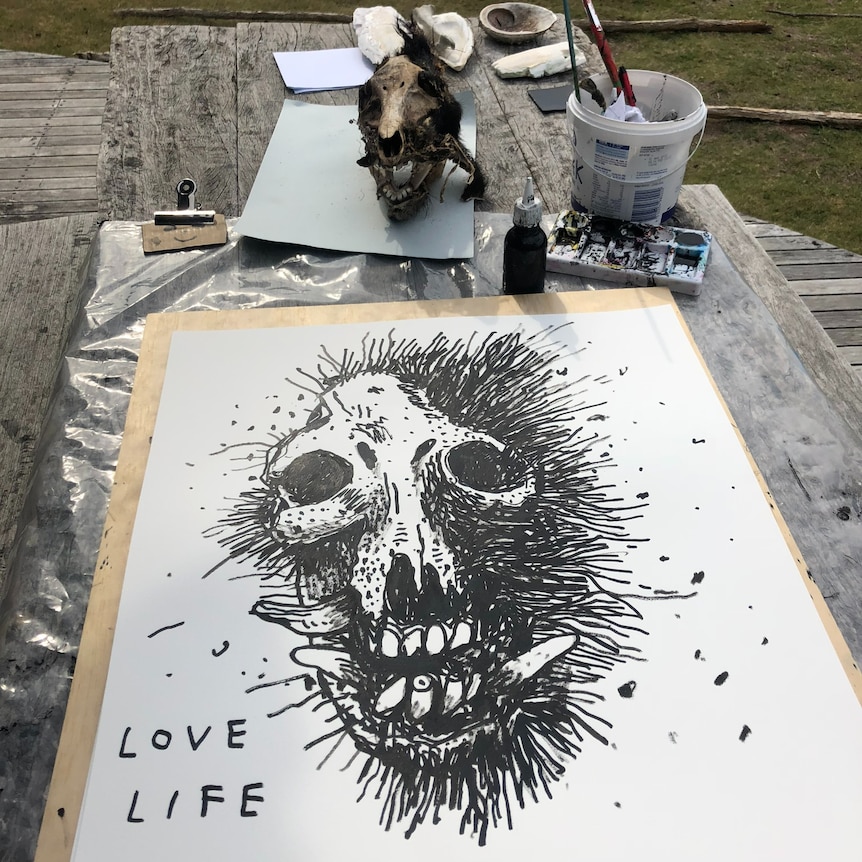 He said that people seem to appreciate the time it takes to do something.
"The first thing people ask when I show some artwork is how long something took, and I really feel like it doesn't make it better if it takes so long," he said.
"I try to undo it, sometimes things take me a lifetime and sometimes they don't, and often things that are done quickly I think are actually better."
It might be hard to justify, he said, but it took 20 years to work on this craft.
Boom Steer
O'Hearn's current solo exhibition Bum Steer in the Bett Gallery showcases the works he produced on "Secret Island" over the course of a month.
"I would paint a day, sometimes two," he said.
"It was a really cool way of working. No graphics, no fixing anything, just see what happens.
More than half of them were sold, a feat not lost on an artist who did the hard work.
"I spent a lot of time in very cold studios whipping myself up, where I could also be on the beach to take things easy and go swimming," he said.
His other major project at the moment is a public art piece commissioned by Hobart City Council.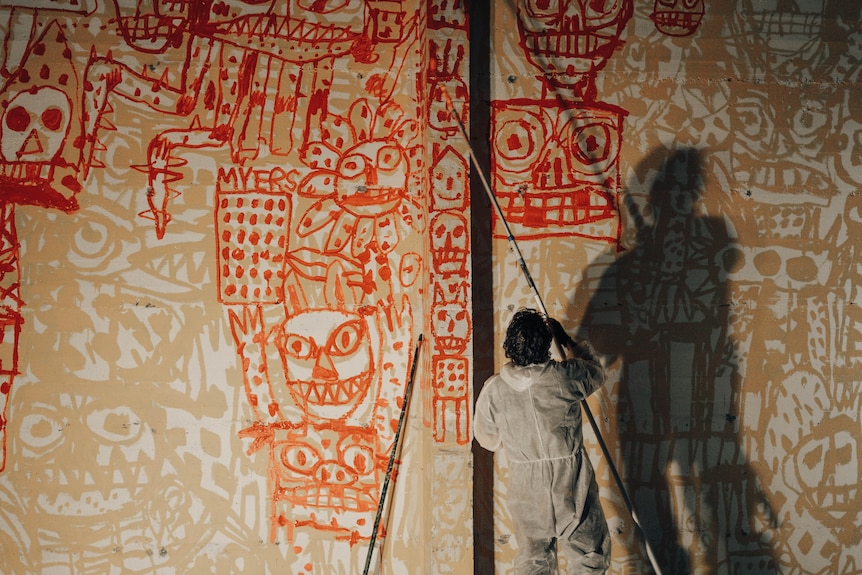 Children know what they are doing
He believes that young children are the best at drawing students.
"You don't really need to tell them anything, they already know what to do," he said.
"I don't know when self-awareness will stabilize.
He is very happy to see his daughter paint.
"I was just looking at a picture of an owl my daughter drew, and that's exactly what I'm trying to do," he said.
"It's just a big free-wheeling owl that I'd spend all day working myself on something like that.
"she's perfect."
.